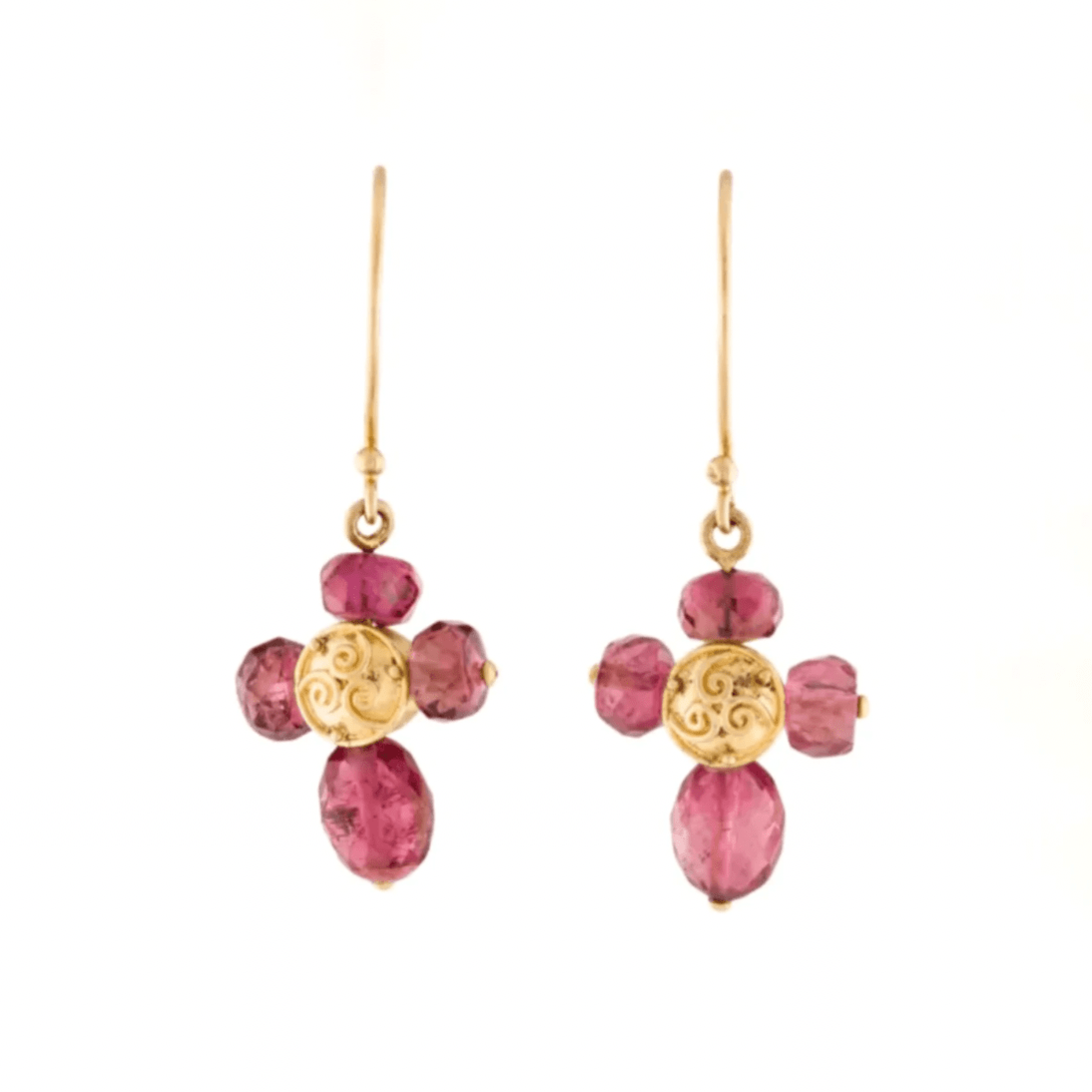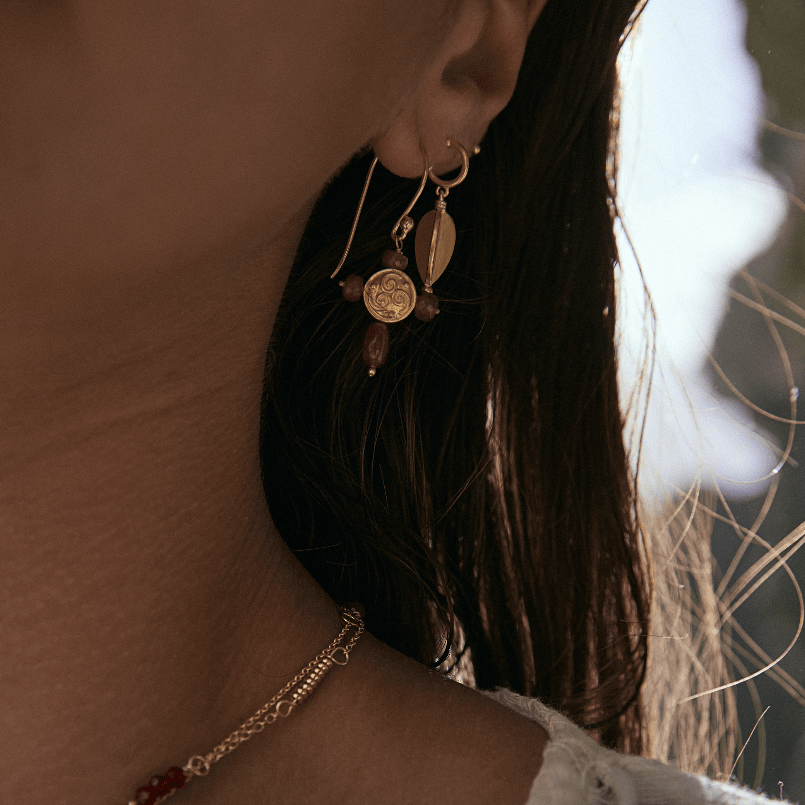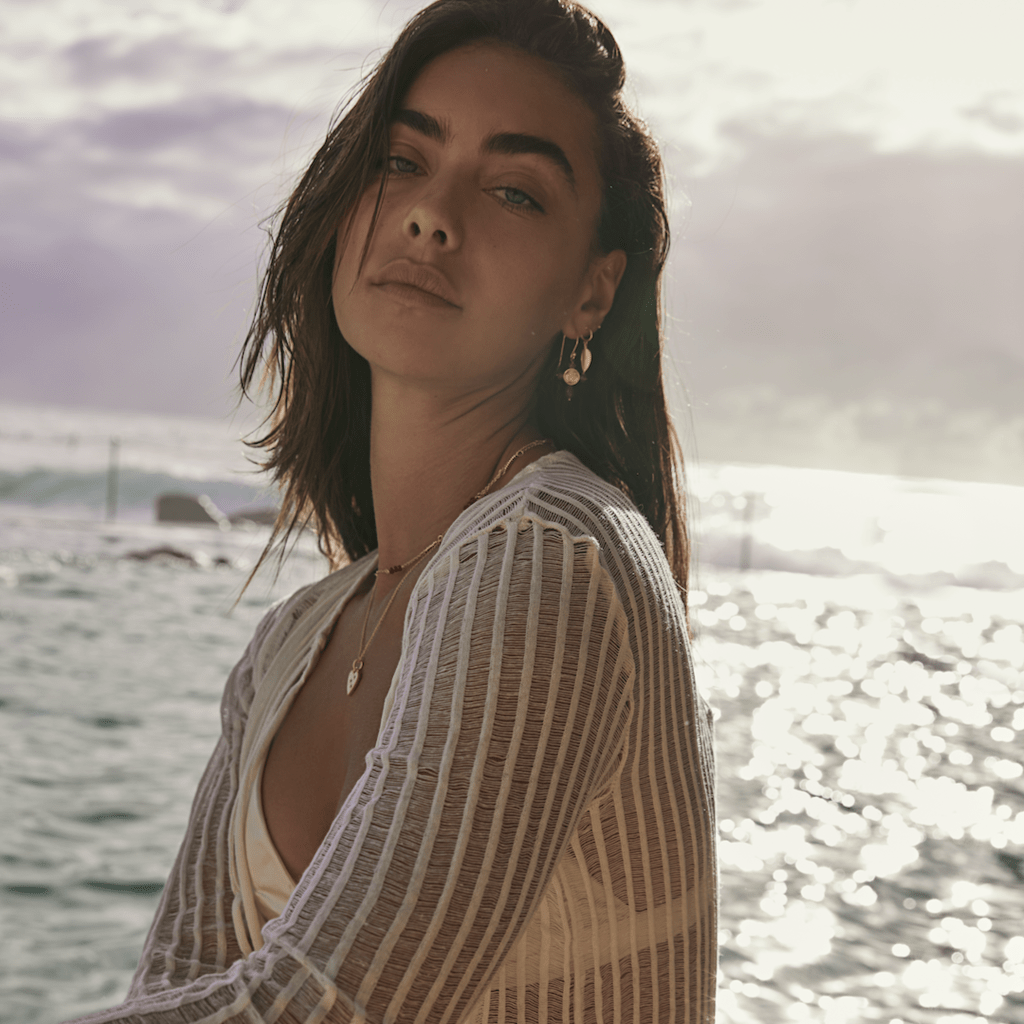 Amorini Earrings with Tourmaline
Description
The Amorini Earrings are formed from delicate pink tourmaline Gemstones with a central engraving. Pink tourmaline represents a love of humanity and humanitarianism. It is worn to promote sympathy towards others. It is an excellent stone for healers and counselors because it promotes better listening and understanding. It carries the virtue of unconditional love and friendship.
The equal-sided cross, or peace cross as it is also known, is a symbol that predates Christian cultures. Its shape is representative of balance, with the four arms being said to align with the four seasons, the cardinal directions, and the four elements of Earth, Water, Wind, and Fire, variously. The symbol is used as a protective shield that guards its wearer. 
Dimensions: 
Drop: 3.5 cm 
Width: 1.3 cm 
Weight: 3.5 grams 
Our Jewelry

Materials

Shipping

Jewelry Care
Our jewelry is Sterling Silver with a 2.5 Micron thick layer of 18k Gold Vermeil. All of our materials, inlcuding gold and gemstones, are carefully and ethically sourced to ensure quality jewelry and dedication to sustainable and ethical workmanship.
We offer free USPS First Class shipping for all domestic orders which estimates 1-3 days for arrival.
We also offer Fedex overnight for domestic orders for a cost of $14.
All International orders are processed with standard shipping for $14 and take between 7-14 days to arrive.
Our jewelry is Sterling Silver with a 2.5 Micron thick layer of 18k Gold Vermeil as well an additional layer of tarnish resistance added to ensure durability and long-lasting wear. All of our materials are carefully and ethically sourced to ensure excellent quality and long-lasting beautiful additions to your jewelry collection. Jewelry is delicate by nature and needs to be shown love and care. Here are some tips for making sure your jewelry will last forever.
1. Avoid substances such as perfume & other chemicals when wearing Santisima Jewels, to prevent discoloration.
2. Rubbing the pieces you wear everyday with a soft chamois is an excellent – and easy – way to keep your jewelry sparkling.
For helpful tips, check out our Journal here.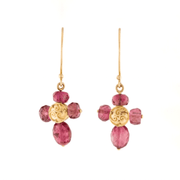 Amorini Earrings with Tourmaline