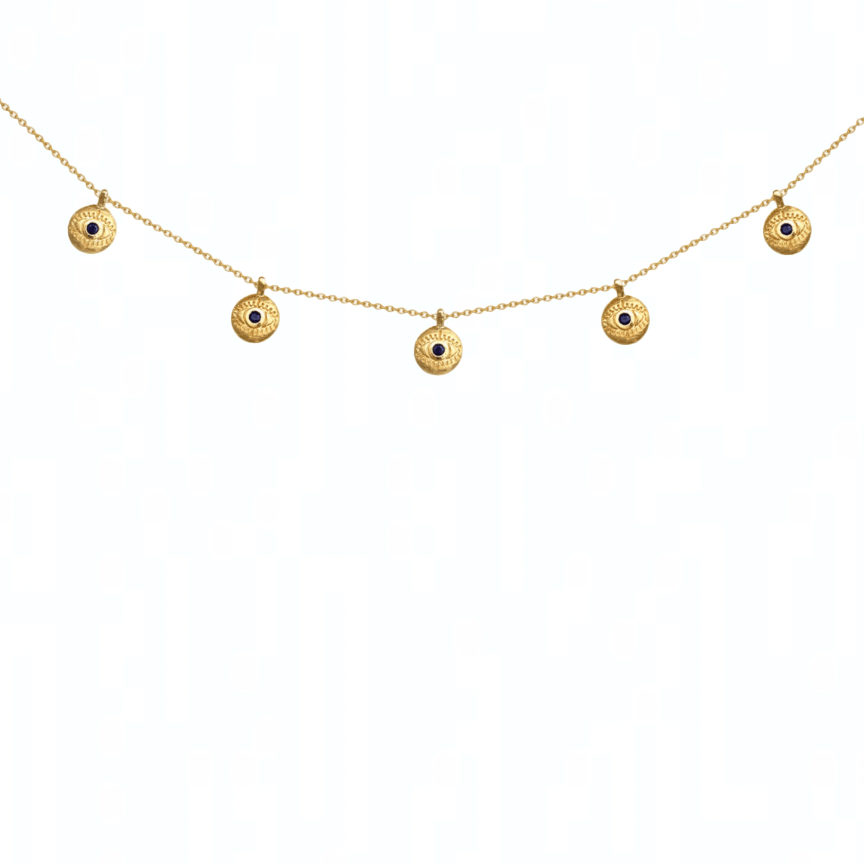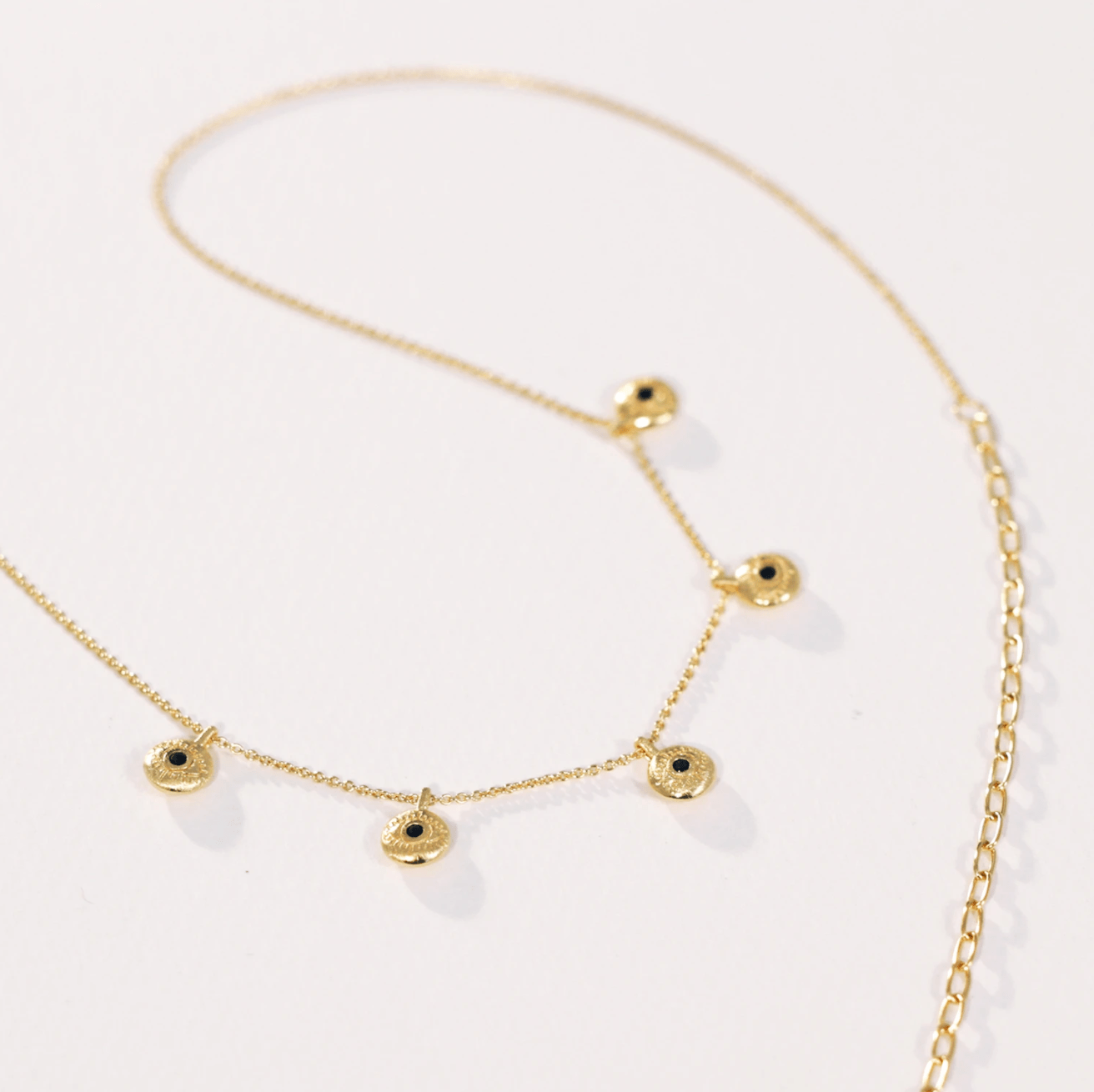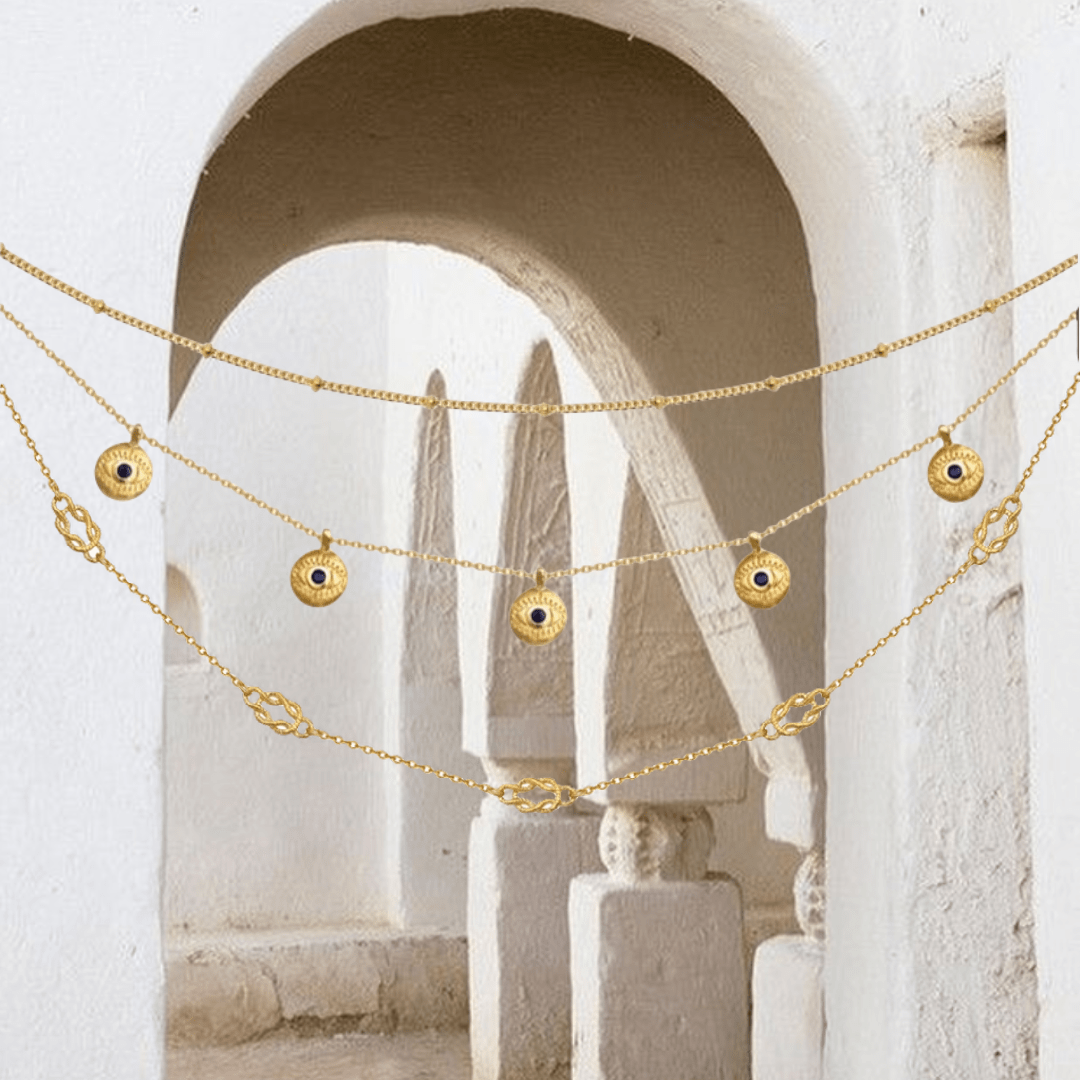 Description
Our Evil Eye Necklace is polished with 18K Solid Gold Plating over a sterling base. The sequence of 5- symbolic charms which are known as the "Evil Eye" carry the energy of the Mati. The legend of the Evil eye itself can be traced back to ancient Greek and Roman texts and is also mentioned in the Bible and Quran. As a symbol of protection, the wearer goes forth into each day with the light of the divine upon them, pulling them towards prosperity and shielding them from negative energy. 
Dimensions:
LENGTH: 39cm + 8cm extension
WEIGHT: 4.4gr
Stone Symbolism: 
For centuries, Sapphires have been known to be a symbol of innocence, longevity and a talisman for good health.  The stone represents prosperity, beauty and inner peace. 
Our Jewelry

Materials

Shipping

Jewelry Care
Our jewelry is Sterling Silver with a 2.5 Micron thick layer of 18k Gold Vermeil. All of our materials, inlcuding gold and gemstones, are carefully and ethically sourced to ensure quality jewelry and dedication to sustainable and ethical workmanship.
We offer free USPS First Class shipping for all domestic orders which estimates 1-3 days for arrival.
We also offer Fedex overnight for domestic orders for a cost of $14.
All International orders are processed with standard shipping for $14 and take between 7-14 days to arrive.
Our jewelry is Sterling Silver with a 2.5 Micron thick layer of 18k Gold Vermeil as well an additional layer of tarnish resistance added to ensure durability and long-lasting wear. All of our materials are carefully and ethically sourced to ensure excellent quality and long-lasting beautiful additions to your jewelry collection. Jewelry is delicate by nature and needs to be shown love and care. Here are some tips for making sure your jewelry will last forever.
1. Avoid substances such as perfume & other chemicals when wearing Santisima Jewels, to prevent discoloration.
2. Rubbing the pieces you wear everyday with a soft chamois is an excellent – and easy – way to keep your jewelry sparkling.
For helpful tips, check out our Journal here.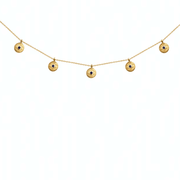 Evil Eye Necklace